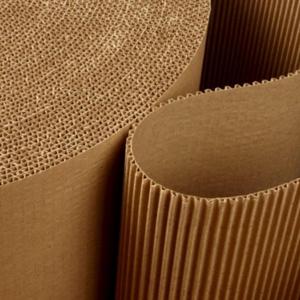 Designed for the production of a corrugated layer in the production of corrugated cardboard. Paper for corrugation is produced at the Turin Central Processing Plant in accordance with GOST R 53206-2008 of the following brands: B-0, B-1, B-2, B-3. According to the method of production, it is divided into glued (K) and non-glued (NK).
The composition of paper grades B-0 and B-1 includes cellulose.
The paper is made by weight 80 - 90 - 100 - 112 - 125 - 140 - 150 g/m2.
Roll width from 840 to 2520 mm.
The physical and mechanical characteristics of the corrugation paper produced by the Turin Central Processing Plant ensure stable quality under emerging static and dynamic loads (during warehousing, stacking, storage, etc.) and, most importantly, ensure the safety of the corrugation.
| | | | | | |
| --- | --- | --- | --- | --- | --- |
| Name | Fluting 80 | Fluting 90 | Fluting 100 | Fluting 110 | Fluting 120 |
| Paper weight of 1 m2/g | 80± 5 | 90± 5 | 100± 5 | 100± 6 | 120± 6 |
| Resistance to flat compression of paper (strip width 15 mm) | 130 | 165 | 215 | 240 | 260 |
| Specific tensile strength kN / m, not less | 5 | 5,5 | 6,5 | 7 | 7,5 |
| Humidity, % | 8 ± 2 | 8 ± 2 | 8 ± 2 | 8 ± 2 | 8 ± 2 |
| Resistance to end compression of a corrugated paper sample (With ST 30), kN/m, not less | 0,6 | 0,7 | 0,8 | 1 | 1,17 |
| Surface water absorbency with unilateral wetting (Cobb30), g/m2 | 30-70 | 30-70 | 30-70 | 30-70 | 30-70 |